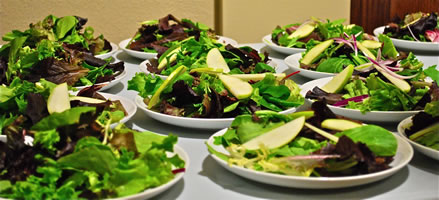 Welcome to Epicurean Delight, a Houston based, full-service catering company specializing in fine foods and healthy lifestyle cuisine for discerning tastes.
Hosting a lunch meeting, reception, party, or group event? Tired of the same old sandwich tray? Let us cater your next event with our wide range of menus! From breakfast pastry baskets to fresh fruits arrangements, be it boxed lunches for office meetings or hors d'oeuvres for a cocktail receptions, Epicurean Delight does it all! And all of it delicious, exquisitely prepared, and professionally served. Don't lift a finger! Enjoy yourself and let us handle the details with a menu that perfectly fits your needs! Read more about our event catering services!
Would you like our hearty and delicious meals catered to your business or organization on a regular basis? Epicurean Delight's convenient contract catering services can do just that! Learn More.
Are you a private school needing a quality food program with an emphasis on healthier food – which the students actually enjoy eating? Our School Catering services may be the match for you!
Are you a parent, faculty, or staff member at a school with lunches catered by Epicurean Delight? Visit the School Menus and Forms section to view menus and download registration forms.
Looking to improve your own diet or the diet of your family? Check out our sister service, Epicurean Lite, which delivers healthy, exquisitely prepared meals right to your home. Go to Epicurean Lite.